Electric motors work for a long time since they are the main working force whenever there are machines working. If any electric motor gets out of commission, this means the stopping of the entire machine or even the factory. Common problems that arise over time with electric motors are: roller bearing failure, end shield bore oversize, vibration of rotor, shaft wear at seal or roller bearing seat, overheating, winding short circuit. All of these proved to be disastrous to the motor and lead to unexpected and undesired stoppage, most probably at critical times. Overhauling should be included in preventive maintenance in addition to the most frequent after-break maintenance. Have all your electric motors overhaul scheduled to guarantee no undesired surprise at your work. Overhauling also saves on cost compared to buying a new electric motors and reduce operating cost which will increase your profit, a thing that all businesses want to achieve.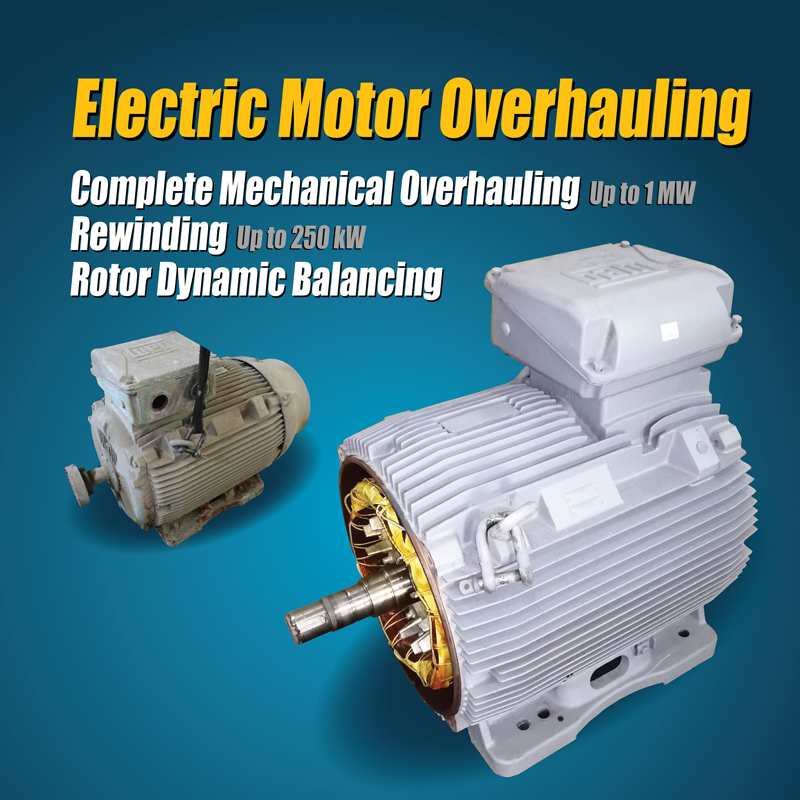 Standard procedure for overhauling:
Sandblasting using special grits for cleaning the electric motor from cement, scale, rust, old paint, dirt, etc.
Disassembly of covers.
Thorough cleaning of rotor and stator while preserving insulation.
Checking connection terminals.
Refurbishing insulation.
Rewinding when needed.
Inspecting and repairing of rotor shaft alignment.
Machining of slip rings when applicable.
Dynamic balancing of rotor.
Replacing roller bearings and seals (FAG/SKF).
Repairing/Replacing cooling fan.
Assembly and replacing all damaged bolts and parts.
Painting using epoxy primer and top coat for protection from corrosion.
No load test including: checking insulation, current, vibration, and temperature.